On 14-10-2015 Executive committee meeting was held at Vijayawada, attended by State Governing body and Executive Committee members.   Dr CR Naidu, IPS (Rtd) presided over the meeting and it was resolved
To bring out State Association telephone directory in 2016
To enroll all the retired police officers of and above the rank of DSP in the 13 districts as members.
To take steps to redress genuine grievances relating to the recent  GO's  issued on notional seniority  whose copies are  distributed to all the  executive committee members and District units.
To raise corpus fund from the Association members
To form the District units wherever they are  not  yet formed.
On 14-10-2015 the Governing body of the State Association called on Sri JV Ramudu, IPS, DGP AP and explained about formation of the Association for the new State of AP. He was requested to instruct all the Unit Officers to extend their co-operation to the Retired Police Officers in redressing their grievances  in matters  of pension settlement, medical claims etc.
The DGP AP was requested to advice the SsP/CsP appropriately.
To provide accommodation to RPOs in the Police Guest Houses.
To facilitate conduct of the District Unit Association meetings in the Police Guest Houses
To provide suitable accommodation for locating the District Unit Offices.
The DGP AP was requested to provide sufficient accommodation to the State Association office in the State level Police Guest House  which would come up in the State capital region by ear marking the same at the planning level itself.
The State Association office was inaugurated on 20-12-2015   by Sri. B Prasada Rao,  IPS, Principal Secretary Home(Rtd), Govt of AP, Mrs and Mr  Sarva Srestha Tripathi, IPS ,Superintendent of  Police Guntur and Dr. C.R Naidu, IPS,  IGP(Rtd), President of the Association.
As a measure of strengthening the Association the Governing Body and Executive Committee members attended  District Unit meetings  at Vijayawada  on 14-10-2015 , at Ananthapur on  18-10-2015,  at Nellore  on  30-10-2015 , at   Eluru on 02-02-2016 , at Vizaq on 03-04-2016 and at Trupathi on 18-12-2016.
New District Units were formed at Eluru on 02-02-2016 and at Kadapa on 04-08-2016.
On 19-07-2016 a special meeting of the State Association's general body was held at Guntur.  Sri JV Ramudu, IPS, DGP AP, released the ARPO s Telephone Directory 2016 and distributed ID cards to the members for their benefit.  The Association felicitated Sri JV Ramudu, IPS, DGP AP on this occasion in the presence of Sri. Gowtham Savang IPS, Commissioner of Police Vijayawada city , Sri. RP Thakur IPS, Adl DGP , Law and order AP and Others.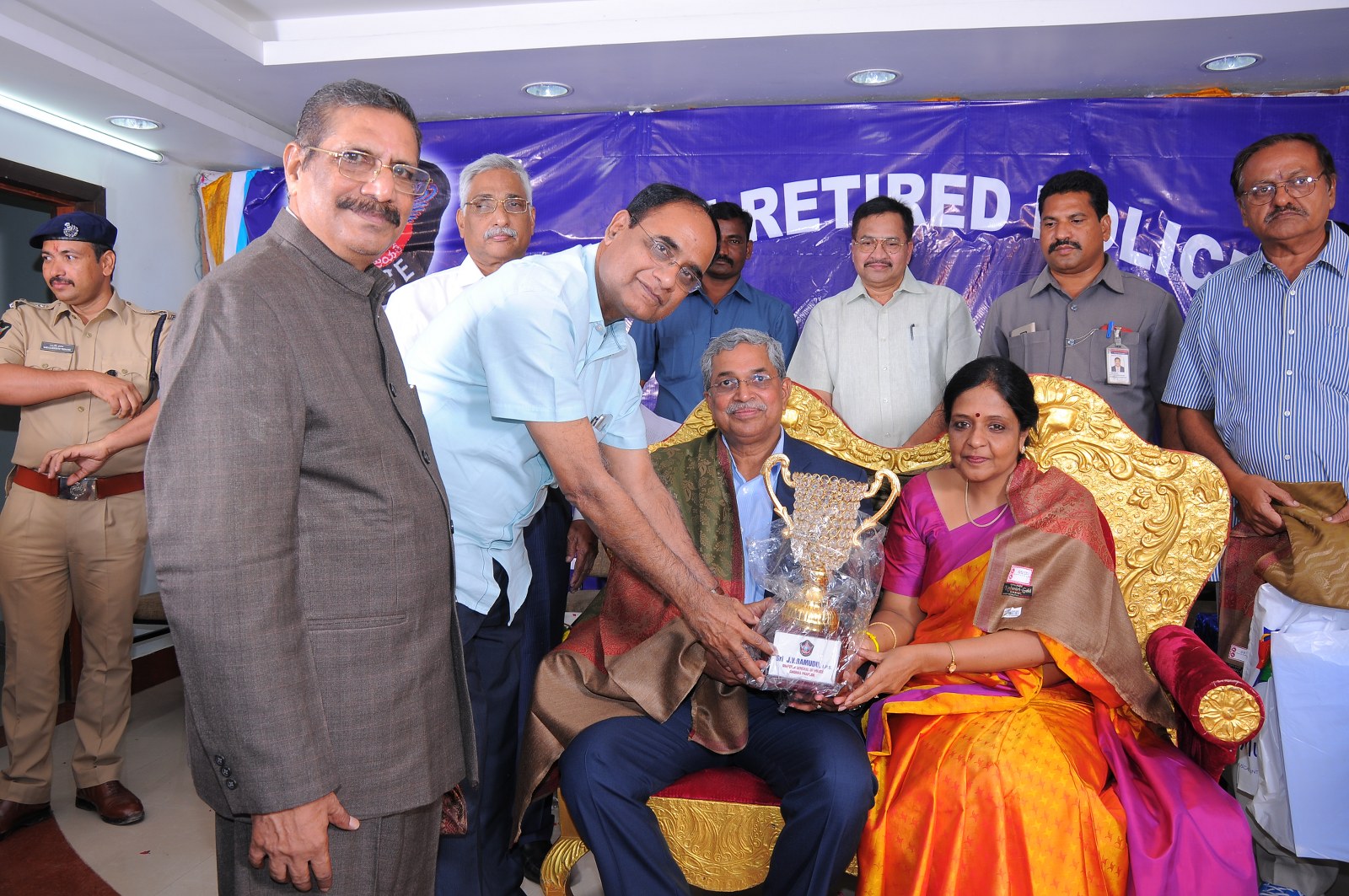 On  30-07-2016  Governing body of the State Association  and  Members of Guntur and Vijayawada Units called on Sri. N Samba Siva Rao IPS, DGP of AP at Vijayawada  to congratulate him on assuming charge as new DGP of AP.
On 14-12-2106 the Governing body of the State Association led by Dr. C.R Naidu IPS, IGP(Rtd) called on Sri. N Chandrababu Naidu , Honorable CM of AP in the new secretariat  of AP and brought to his notice about  the  formation of the Association and Its activities. The Honorable CM assured   all help to solve the problems of  Retired Police Officers as and when brought to his notice.
The AP State Legal Services Authority was addressed offering the RPOs' services in creating legal awareness to the public and resultantly Sri. K Satyanarayana , General Secretary of the State Association is nominated by Govt. Of AP(AP State Legal Services Authority) as member of the District Legal Services Authority Guntur for a term of two years from 11-01-2017.

Some of our Association members are serving in the Family Counseling Centres in the District/Sub Divisional Head Quarters and have been helping the Police in solving dowry/ domestic violence related disputes.
Some of our Association members have been attending District Training Centres to teach in- service trainees i.e  PCs/HCs in matters of Law and Procedure.
Most of the members of the Association are available for free consultation to the serving officers of the Police Department in crime investigation and other important matters. Interested officers are utilizing this opportunity.
The Association has plans to identify orphan children who lost their parents in fatal road accidents and other cases and to help such orphans in matters of education etc.. through Child and Police Project( CAP) functioning at Hyderabad. The State Association President Dr. C.R Naidu, IPS ( Rtd IGP) is keen in this matter.
The State Association is going on net to appropriately respond to the genuine grievances of its members by taking up the issues with the senior Police Officers or the Govt. if required.
On the invitation extended by The Karnataka State Retired Police Officers welfare Association, on 27-06-2018 our state Association's  President  Dr. C.R Naidu IPS, Rtd. IGP  and  General  Secretary  Sri K  Satyanarayana Addl. SP Retired  attended  their meeting at Bangalore.  During the said meeting it was resolved  to form  an association  for the South Indian States Retired Police officers  for which  the modalities  are being worked out by the Karnataka State Association  under guidance of Dr. Shankar Bidari  IPS,  Former DGP Karnataka State.
On 23.08.2018 evening Sri.H.J.Dora, IPS, DGP Retd inaugurated the new Retired Police officers association, Vizag unit conference hall on the 3rd floor of Police mess situated in Ramakrishna Beach, Vizag. State Association President Dr.Cr.Naidu, IPS, IGP Retd, State General Secretary K.Satyanarayana, Addl.S.P.Retd, State Treasurer Sri.U.Manikyala Rao, Addl.S.P.Retd, State Vice President Sri.K.Lakshman Mohan, IPS IGP Retd, Vizag unit President Sri.Surya Prakasa Rao, IPS, IGP Retd, Vizag unit Secretary Sri.K.Rama Krishna, Addl.S.P.Retd, Office bearers of Vizag unit and Members of the Vizag unit attended the inaugural function and meeting.Sri.Mahesh Chandra Ladha, IPS, Commissioner, Vizag city and other senior police officers are also participated in the function. Retd DGP addressed the retd officers and remembered the welfare activities taken up during his tenure as DGP. Association members felicitated Sri.H.K.Dora, IPS, Retd DGP. Sri.D.B.S.Raju, Addl.S.P.Retd donated 
5.00 lakhs for the renovation of the conference hall. (His cell No.9440428518). Chief guest and other senior officers complimented DBS Raju for his contribution.
Today (18 -5-2020) evening, the office bearers of the Association of Retired Police Officers, AP State called on Sri Gowtham Sawang, I.P.S., D.G.P., A.P. in the Police Headquarters at Mangalagiri and presented a cheque for Rs 3,01,116/- which they collected from members of the Association, NRIs and others who, out of good will for our General Secretary Mr.K.Satya narayana, voluntarily sent  their contributions for the noble cause. Face masks, biscuits etc sponsored by ITC were also handed over. While other senior Police Officers including Addl. DGP, L&O, Addl.
DGP,Admn.,I.G.Ps Personnel, P&L were also present, the DGP appreciated the effort of the Retired Police Officers and conveyed profound thanks for expressing solidarity with the serving Police.
Today (8-6-20) S.Sri. J.Bhaskara Rao, Meka Ramesh Kumar and K.Bala Venkateswara Rao, all belonging to 1985 batch of S.I.s and retired from service recently on superannuation as  Superintendents of Police were felicitated by the Association of Retired Police Officers, A.P. at Guntur at a breakfast meeting, with shawls and flower bouquets. I, being the General Secretary, Sri DVSS Murthy, Rtd.S.P., being the Jt. Secy., Sri U.manikyala Rao, Rtd. S P.,being the Treasurer,  Sri   B.V.Subba Reddy, Rtd.DSP,  being
E. C.member and Sri B.Bagiradha babu, Rtd.DSP, being the member of the Association besides few other well wishers participated. All these three recently retired Supdt.s of Police joined as members in the Association..
Sri.M.Ramesh Kumar, SP Retd, cell Number- 944012024,
Sri.Bhaskara Rao, SP Retd, cell Number- 9848159160
Sri.Balavenkateswara Rao, SP Retd, cell No. 8008203317
All the retired Police officers are of the 1985 batch, settled at Guntur.